Wider opening of School
Wider opening of School
19 May 2020 (by schooladmin)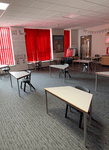 Dear Parent/Carer
We are currently in the planning stages of considering how we safely open more widely from the 1st June as per the Government Guidance. As part of the planning process we will be contacting all parents of children in Nursery, Reception, Y1 and Y6 to ask if you would want your child to return to school at this time.
As part of your decision making, I feel that you need to be clear on what the children will be returning to. We will not be able to resume normal teaching due to the restrictions on the numbers in classes and the social distancing measures that need to be put in place. The children will not be able to share or play with any shared equipment. We have set out the classroom to ensure that children are socially distanced. I have included the photo above so that you can ensure your child is fully prepared before a return to school of how different their classroom will look. I will put additional photos on the website once we have more classrooms prepared.
Each year group will be split into two or three groups and will be allocated a minimum of 2 adults who will teach lessons planned by the year group teacher. The children will be expected to stay in the classroom all day at their desks and will also have lunch in the classroom to minimise movement around school. They will have allocated times from outdoor breaks throughout the day, but they will not be allowed to mix with any of the other children in school.
Once we have established numbers, we will be able to decide how many of the year groups we will be able to accommodate safely within school with our current space and staffing availability. We will communicate our decision as soon as possible; please be aware it is highly unlikely that we will be able to accommodate all four of the suggested years groups.
I will be in touch again later this week to communicate our further plans.