Christmas Dates
Christmas Dates
18 November 2021 (by schooladmin)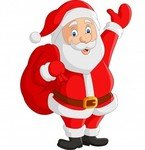 Christmas
Dear Parent/Carer,
Please read the attached information in regard to Christmas plans.
Christmas Concerts:
Nursery – Will be holding their own concerts in class on Wednesday 15th December. There will be a morning performance and afternoon performance. Mrs Quinn will be sending more information in due course.
Reception, Year 1 and Year 2 – Nativity – We are aiming to hold a Nativity that parents will be able to attend in person. Pease note that if the local/national guidance changes we may have to move to showing the concerts online via Seesaw.
We will be holding 3 performaces of our Nativity. Please note that seats are resticted to 2 places per child.
14th December - 9.30am - Reception parents are invited to attend
13th December - 2pm - Year 1 parents are invited to attend
14th December - 2pm – Year 2 parents are invited
KS2 – Carols around the tree- will be uploaded to Seesaw on 10th December 2021
Christmas Cards - Children can bring in cards from the 1st December.
'Elfridges' – 8th December – More information will follow from the Friends of Moorside.
Friday 10th December -Christmas jumper day and Reindeer Dash
Children are invited to wear a Christmas jumper on this day (usual school trousers/skirts). We will also be participating in the Overgate Hospice Reindeer Dash, where all the children will complete a run wearing reindeer antlers (provided by Overgate). We will be asking for a £1 donation, alternatively children may choose to raise sponsorship for Overgate. Further details will be sent home soon. Children are also welcome to wear trainers in order to be prepared for their reindeer dash!
Thursday 16th December - Christmas Dinner Day
You will have received communication today regarding ordering a Christmas lunch. Please make sure you have completed your order/s by 1st December so that we can order the correct amount of lunches.
Friday 17th December - Christmas Party Day
Children are invited to come to school in their party clothes on this day. Parties will be held hoping that Father Christmas will pay us a visit!
Thank you for your continued support.
Yours faithfully,
Mrs. H. Higgs
Headteacher